Black Friday is right around the corner, marking the beginning of the Christmas shopping season. If you're looking for stylish and practical gifts for the automotive enthusiast in your life, then you've come to the right place. With 6 weeks left until Christmas, here are 6 of the best gift ideas to light up your car and your holiday giving spirit.
Of course, the ultimate present for a car lover is a car (browse our inventory and call for exclusive Black Friday deals)! But even if you're not in the market to buy a beautiful car for Christmas, these vehicle accessories and related gift ideas are sure to please.
Gift Ideas for Car Lovers
1. Tactical Flashlight
Shine light on the holidays with the gift of a tactical flashlight. Every car owner should have a powerful flashlight in the car. Not only are they useful for finding things (like your keys), they can also be used for self-defense.
Originally developed for the military and law enforcement, tactical flashlights deliver an intense beam of light. They can be used to temporarily blind an attacker, allowing time to run or counter-attack.
Here are a few tactical flashlights on the market that would make any car owner happy:
This waterproof flashlight comes with a Cree High Intensity LED with an output of 120 Lumens. It also features over 30 power settings, including a blinding strobe and an SOS signal flash. This product, developed by Insight Technologies, which specializes in weapon lights, retails around $60 and comes with a lifetime warranty.
SureFire's line of tactical flashlights are praised for their brightness, ergonomic design, and ease of use. This is the same tactical flashlight that is used by U.S. Air Marshals and FBI agents.
2. Driving Gloves
Enhance the driving experience and impress the car lover in your family with a pair of old-school driving gloves. A good pair of driving gloves should be part of any car owner's wardrobe. Not only are they stylish, but they also greatly improve the driving experience.
Since steering wheels can get dirty or slippery, a quality pair of driving gloves will provide a barrier to the germs and extra grip for enhanced control. Driving gloves also mitigate the effects of steering wheel vibrations and help maintain the look and feel of the car's interior. Consider pairing them with a pair of Puma driving shoes.
Fingerless Driving Gloves
Some drivers prefer fingerless driving gloves (sometimes called glovettes) because they are able to provide padding and palm protection benefits while also allowing precise control with your fingertips.
In warmer weather, fingerless gloves can be a more hygienic and comfortable option. The increased air flow helps prevent the gloves from getting wet with sweat. Should you need to perform a repair, fingerless driving gloves are also great for working on nuts, bolts, and other small objects without having to remove the gloves. If worn by a woman with long fingernails, fingerless gloves are probably the most comfortable option.
You can find many fingerless gloves on Pinterest and other sites. Prices range depending on the quality of the material. For $25, you can pick up this affordable yet chic option from Elma Men on Amazon (featured above).
Full-Finger Driving Gloves
The most classic of driving gloves are black leather and full fingered. Back when steering wheels were wooden and there was no heating system, drivers needed extra protection for their hands. Especially in the winter months, holding onto a frigid steering wheel can be unpleasant and distracting. They're considered classic car fashion for a reason.
This extremely stylish pair from Autodromo (featured above) is a more expensive option at $125, but are sure to last. Ranked on many top driving glove lists, the company boasts that they will feel "poured on." This is important as any good pair of driving gloves should fit! If you're looking for a cheaper option, head over to Amazon for many $40 and under options, like these Pratt and Hart Deerskin Leather Driving Gloves, which come in three colors.
3. Car Staches and Lashes
Decorations aren't just for Christmas trees. Two of the most fashionable and quirky ways to dress up your vehicle are with front grill mustaches and light lashes. Who says vehicles don't like to get fancy for a night on the town?
Many people name their vehicles, and these accessories give any car a distinct personality. They also add a comedic or flirty vibe to match the personality of the car's driver. Great for both teen and adult drivers, car staches and lashes are sure to bring smiles the whole year round.
Staches

Made popular right alongside the word "hipster," car mustaches are the original humorous car décor. This is especially funny if the carstache matches the owner's mustache. Visit catstache.com (featured above) for a wide selection of carstaches, from black and gray to red and green, for compact vehicles or large trucks. Now all types of cars can grow a full grill of facial hair.
Lashes
If you visit carlashes.com (featured above), you will find a plenty of lash colors, metallic options, and bedazzled sets. There are also several adorable and durable options on Amazon for under $30. Search keyword "Carlashes" to pick the perfect pair of lashes for your car's front lights. A huge hit with female drivers of all ages, this gift is both flirty and fun.
4. Vehicle Backup Cameras
While front and rear-mounted cameras are quickly becoming standard safety features, most car owners have to settle for their eyes and mirrors. Or do they?
There are many camera devices that can be mounted to your front and back license plates regardless of the make or model of your vehicle. These devices can be hooked up to your iPhone or another screen mounted to your dashboard.
If you have a friend or family member that is always running into low obstacles and other hard-to-see objects, a backup camera system may be the perfect gift.
While most rearview cameras work pretty much the same, you should consider the various options available to you. This includes camera angle (usually between 120° and 180°), color, mounting location, night vision/infrared capability, weather resistance, and wired or wireless installation.
Value and price ranges considerably so make sure you look up online reviews and double-check warranties, features, and other pertinent information. We recommend looking for a camera with a wider field of vision, night-vision, weather resistance, and wireless capability.
Here are a few options to start with:
5. Compact Battery Jump Starter
You or someone else is stranded on the side of the road with a dead battery. What do you do? This is where a compact battery jump starter comes in handy.
Everyone should know how to jump-start a car and have the necessary equipment to do so. Protect your loved ones and save the day with a battery jump starter kit.
Many compact jump starters also come with USB connections to keep all of your devices fully charged. While it may not seem like a great gift, they'll be thanking you later for saving the day in the event of an emergency.
Here are some highly-rated battery jump starter kits to get you started:
If you don't know how to jump-start a car, refer to this useful infographic from The Art of Manliness:
6. Music Streaming and SiriusXM Subscriptions
For most of us, music or radio is a must have for any car trip. Although there are many free music streaming apps and services, did you know that many offer ad-free versions for an monthly or annual fee?
The two most popular ones are Pandora One and Spotify Premium, however, Tidal and Apple Music are big contenders as well.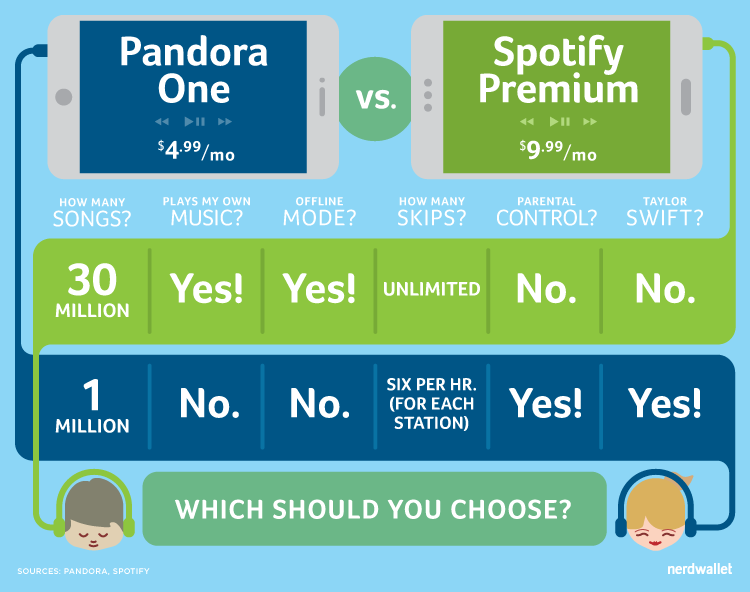 Via:NerdWallet
Other digital subscriptions you may want to consider are SiriuzXM for radio-lovers and Audible for book-lovers.
Bonus Stocking Stuffers
Whether used for novelty or practicality, stuff your loved ones' stockings with car swag for both male and female automotive enthusiasts:
Better Yet, Buy a New Car!
If you're looking for something a little bigger, check out our extensive inventory of Certified Pre-Owned Vehicles.
Here are just a few cars that are on the lot right now:
Location: Dayton TN
Mileage: 67 mi,
34 City / 38 Hwy
Location: Chattanooga TN
Mileage: 85,742 mi,
22 City / 33 Hwy
Location: Chattanooga TN
Mileage: 65,602 mi,
23 City / 28 Hwy
For Black Friday deals on our Certified Pre-Owned Vehicles, give us a call! Our prices are too low to list.
Happy Holidays!
---
Auto Simple wants you to find a car you love at a price you can afford. We carry a large selection of hand-picked, Certified Pre-Owned vehicles, all with a 6 month/6,000-mile Powertrain Warranty.
With locations in Cleveland, Chattanooga, Dayton, and a new store in Dalton, GA, we make it easy to walk away with your dream car. We specialize in financing for all credit levels, low down payments, and affordable weekly payments. In most cases we can have you driving your new car in less than an hour.
If you have any questions, don't hesitate to speak with one of our Online Specialists or give us a call:
Chattanooga, TN – (423) 551-3600
Cleveland, TN – (423) 476-4600
Dayton, TN – (423) 775-4600
Dalton, GA – (706) 217-CARS (2277)
Follow us on social media for more useful information on buying, selling, and maintaining cars: Facebook, Twitter, Youtube, and Google+.
*Preferred Customer program and free conventional oil changes every ninety (90) days are contingent upon the customer electing to make recurring payments to via ACH or debit card. Additionally, to continue in the Preferred Customer program and receive free oil changes, the customer's loan must remain in good standing, and the customer may not cancel the recurring payment election. See store for further details. Other restrictions may apply.